Creepy coaches haunt street in Halloween hearse parade
Car enthusiasts with gothic tastes gather for a macabre motorcade at the O.C. Fairgrounds.

By ERIC CARPENTER
The Orange County Register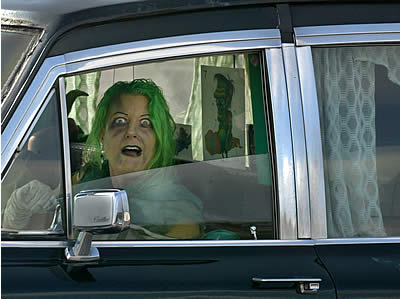 Hearse driver Liz Ard of Echo Park hams it up as she participates in the procession.
Photo: Jebb Harris / The Register
---
COSTA MESA
"I put the fun back in funeral" T-shirt: $15.
Authentic body bag to hang in the back seat: $22.
Driving a vintage hearse - used to transport hundreds of bodies to their final resting spots - for weekend trips to the supermarket: fearless.
Or downright creepy, depending on your point of view.
About two dozen car enthusiasts with a taste for the dark side gathered at the Orange County Fairgrounds on Sunday for the Halloween Hearse, Bug and Monsters Classic Car Show featuring antique and vintage hearses.
"Everybody who owns a hearse is a little off-center - if not way off - but we're mostly a friendly bunch of people who like old cars and grew up on monster movies," said Bill Smith, 42, a plumber who grew up in Fullerton.
"We definitely get a lot of looks," his wife, Vicki, said, standing next to their raspberry-colored 1965 Bonneville Superior hearse. "Gas mileage isn't much, but it does carry a lot of groceries."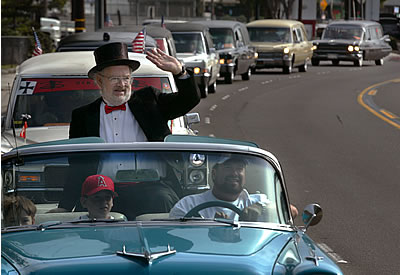 Radio personality Dr. Demento waves as he leads a parade of hearses in Costa Mesa on Sunday, part of a car show featuring vintage hearses.
Photo: Jebb Harris / The Register
---
Seventeen coaches hit the streets of Costa Mesa to celebrate Halloween with a macabre motorcade led by radio personality Dr. Demento.
As the parade got under way, the hearses fired up their engines to line up single-file. The Smiths' Bonneville shined with a fresh paint job. Its engine purred.
Other coaches clicked and shrieked to a plaintive start.
Lights flickered from gothic lamps attached to Michael Bloom's faded black 1975 Cadillac Miller Meteor, its vinyl top cracked from age, a child's bike carriage with a skeleton inside attached to the back.
A woman with bright green hair, who calls herself Liz Ard, drives a hearse with - what else - green lizards painted on and the license plate: KDVR WGN.
Ard said she picked up her 1969 Cadillac through the used-car ads in The Recycler. When she got married seven years ago, her husband bought her a casket to give her hearse some cargo.
Most of the parade participants came from the Southern California Phantom Hearse Society car club, which boasts more than 200 members.
Some of the owners are car lovers who spout statistics about engine size and horsepower. Others know very little about their hearses but drive them because they are the natural extension of their gothic lifestyles.
"This is my outlet. It's playacting," said Bloom, 42, of Westminster, an artist and a proud member of The League of Vampire Bards.
"This is something that's acceptable to everyone around Halloween. It's just other times of the year when they see me in the Albertson's parking lot that people think I'm strange.
"We're not violent, just fascinated by death," Bloom said. "There is power in being able to embrace what others fear."
The Smiths said they don't lead a gothic lifestyle. While many of the drivers wore black suits and pewter jewelry with gargoyles, the Smiths wore jeans and T-shirts.
Bill Smith said he's always loved classic cars. He also grew up going to Knott's Berry Farm's "Halloween Haunt" and watching 1960s monster shows, such as "The Munsters."
So buying and maintaining a hearse seemed a natural combination of his passions.
He started with a 1955 Pontiac. He traded that in for his '65 Bonneville. Someday, he'd like to have a '59 Cadillac - widely considered the ultimate hearse because of its style and smooth ride.
But for now, he's just looking to enjoy Halloween - his favorite time of year.
"October is a busy time to be a hearse owner," Smith said. "For some reason, there's not much demand for our time around, say, Mother's Day."
---
Contact Carpenter at (714) 704-3769 or ecarpenter@ocregister.com