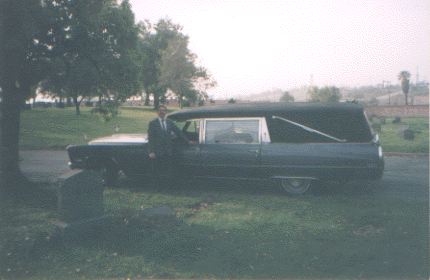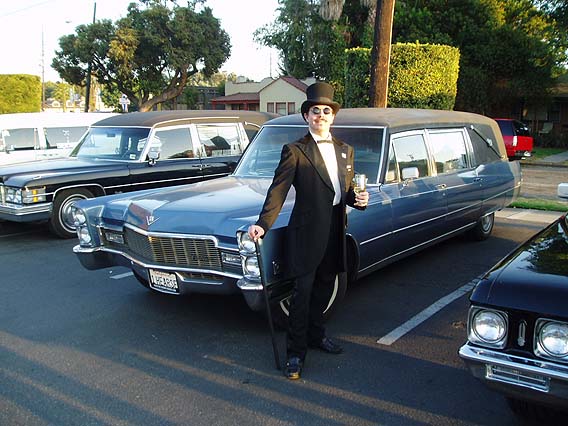 Mark Villarino, Norwalk California, mark_villarino@excite.com
Blue 1968 M&M endloader, box stock original and I always have a casket in the back while I drive. The '68 came from a morturary in the San Bernadino mountians and has all the heavy duty factory stuff like positrac, disc breaks and 4-core radiator, and everything on it works.
My hobbies include hearses, Zymurgy, traveling and guitar. The most meaningful thing I did was drive the body of my nursery school teacher to the cemetery in my '68. The top photo above was taken after the funeral. On the second Friday the 13th of 1996, I watched someone rear-end someone else on the freeway in heavy traffic while they were staring at my '68. The most common quesitons are "is it real?" and "is there a body in the back?" My favorite answers are "no it's actually paper mache" or "no, it's an optical illusion, if you look at it in the right light, it's really a Volkswagon," and "I have Elvis in the back." When I moved into my house I had to keep my hearse in the driveway while I modified the garage for it. After only 3 days, I found a ticket on the windshield from the office of public safety saying that my hearse was an abandoned or derelict vehicle. It turned out that the neighbors had called and complained about it and this was the only thing the safety nazis could do. Subsequently, I had a huge 4th of July party at my house and themed it "Halloween in July." About 15 hearses showed up with people in costume and you should have seen the frightened parents round up their kids to keep them away from the evil hearse drivers. Since then, I haven't had any other hearse related problems with my neighbors.
I have found that people either like these cars and give the thumbs up or they hate these cars and express negative hand and body gestures. Oh well, their loss.