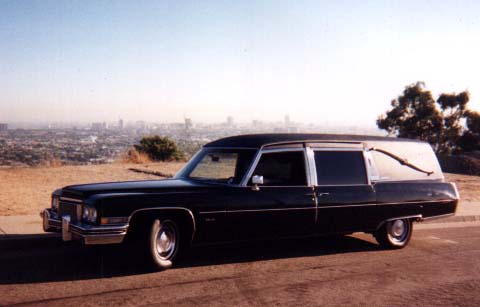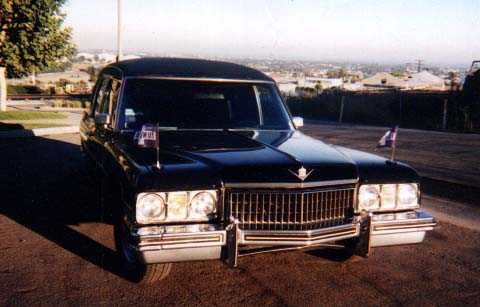 Scott Griffith, Downey California :sgriffith@retecinc.com
73 Cadillac Miller Meteor 3 way Electric - Black on black with functional table and air conditioning. This coach has a curb service hydraulic levelizer but is currently not functional, I think it's a minor problem that I hope to solve soon. Its best feature is the interior, all original and in pretty good shape all around. Another great feature is it's chrome. It's actually all there and very clean inside and out. It's mechanically sound too, has some minor leaks that I'm working on. It's not the most popular year for hearses however I find it quite stylish. I hope to eventually install a kick ass stereo system as time and money permit. Since I've owned it, Jehovah's Witness's don't come to my door anymore. I can't understand why?
My personal hobbies are Basketball, collecting die-cast cars, Texaco memorabilia, and lots of weird stuff that would be of interest to no one except me. Most of all, I enjoy hangin' with my wife Michelle and son Nicholas. they don't want too much to do with my hearse admiration, however I'm working on them. They will come to the dark side.