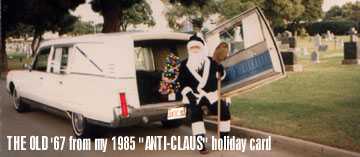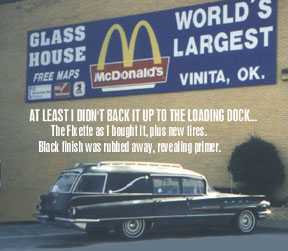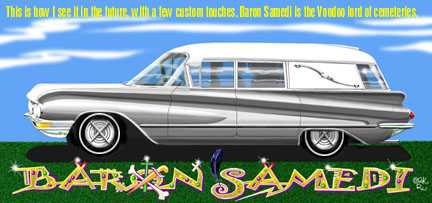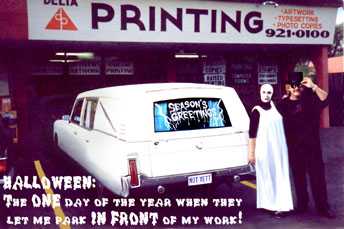 Robert "Rx" Marker, California
1960 Buick Flxette.

First things first. I am NEITHER a drug dealer nor a pharmacist. (Good news for some of you, bad news for others.) I'm a graphic designer/artist and writer who began signing my work "Rx" back in the sixties, and it just sort of stuck.
My first coach was a white '67 Olds C/B Cotington which I bought from a funeral home in Long Beach CA in early 1985 and drove through late 1991. It was my daily driver and family car and also logged two round-trips from California to Florida and several trips up and down California. (KOA loves me!) Circumstances forced me to sell it, and only then did I realize what a large part of my life it had become. I loved it, my kids loved it, my parents loved it and my neighbors tolerated it. It was good transportation and a great icebreaker for a guy who wouldn't otherwise strike up a lot of conversations with strangers.
I bought a computer in 1997, with absolutely no interest in the internet. A friend signed me up and told me to run a search on whatever interests me. I typed in "HEARSE" and the first site listed was Rance Bennett's, featuring a photo of a '60 Buick Flxette for sale. I had long ago seen the '60 Flxette in McPherson's book, and decided that if I ever bough another coach, that's the one I wanted. I was disappointed to find that Bennett's was sold, but began annoying all the recently-discovered hearse clubs and dealers on-line, trying to find another. If I had known only 110 were made, I might not have perservered.
Eventually I found a guy on-line who knew a '60 Flxette owner who was not on-line, and might be willing to sell. After a bit of negotiating, I bought the car from a Buick mechanic/restorer in Kansas, paid him to whip it into running shape and drove it back to California.
At first I was too busy to work on it, so it just sat. When I got around to starting the work, I found that injuries and illness had left me unfit to even work on cars. Major bummer!
I did manage to remove the tacked-on roof rack and spoiler, and strip out the transplanted '59 Chevy interior. I also treated it with rust-killing primer to stop its deterioration.
I am now lining up friends, mechanics, body workers and parts sources for its completion. Stage one will be brake and fuel system work required to make it drivable on a daily basis. Stage two will be replacing and reglazing windows, repairing body rot and replacing a rusted-out floorboard. That will leave me with a secure vehicle, which I always prefer.
After that, I plan to add some subtle custom touches to the body, install A/C, upgrade to a TH400 transmission, add disc brakes and a few high tech gadgets for my own amusement. With that much done, I hope I'll be able to drive it regularly and take my time blasting it back to bare metal and painting it myself, as well as designing and installing a custom interior.
I've included photos of the coach as I bought it, as it looks now and as I hope it will look soon, as well as an old Christmas card showing my first coach. Other than funeral cars, my primary interests include art, rock and roll, photography, humor and trivia. I hope to get this puppy running right and start attending meetings soon.