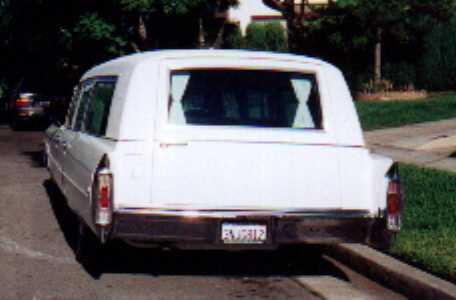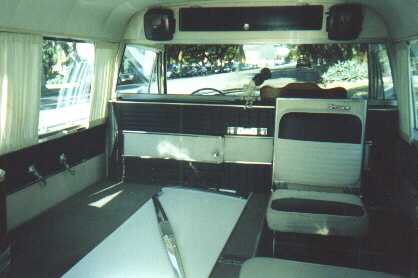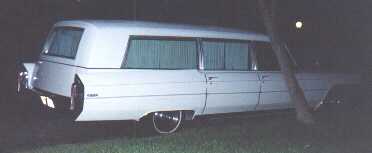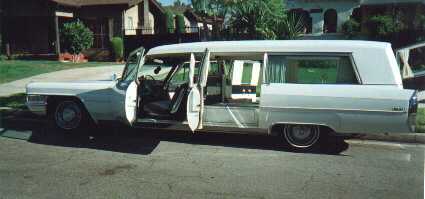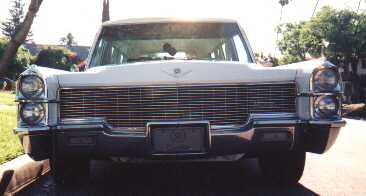 Keith Lubow, Alhambra, CA
1965 M-M "duplex" (that's what it says on the coachbuilder plate)
1967 M-M "duplex" (not pictured)
Unique Features: '65 - Removable panels, smooth linoleum floor (no rollers) Federal 6V model E siren, comfort control, AM/FM w/power antenna, front and rear air and heat. '67 - not really sure yet as I haven't really gone through it. Nothing really stands out except front and rear air/heat, and that it came with some cool creepy funeral home paraphenalia. Needs windshield.
Hobbies/Interests: Cars, plastic models, dealing with money, my goilfriend, road trips, the bay area, Berkley in particular. I like the smell of my fingers after I've eaten at In-N-Out and squeezed 10 lemons in my diet Coke mixed with Dr. Pepper and then smoked a cigarette(Winston 100's to be exact)
Favorite Coach or Halloween Related Story: '65 S&S Victoria, or any '65/'64. I love Caddies w/stacked headlights (plus '64's) (minus '66's). I am always on the lookout for a '65 S&S ambulance. Hopefully these will be some future projects: Converting a '66 limo into a '65 (with which they used '64 bodies), changing a '62 - '65 Nova wagon into a landau styled hearse (preferably a '65)