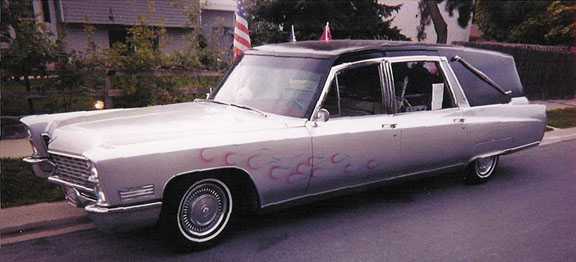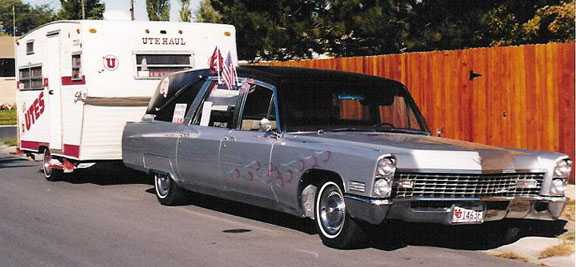 Frank & Susan Christenson
1967 Cadillac Superior Endloader

It is a daily driver, and we use to pull the tailgate trailer (UTE HAUL) to all the University of Utah home football games. It has been in the St. Patrick's Day parade for the past four years, with the UTE HAUL. Susan teaches at a local high school and the students love to have the hearse in the homecoming parade. We also have taken first place in several of the local Halloween cruise nights. People come from miles around, to trick or treat at our house on Halloween because the hearse is the focal point of our Halloween decoration. It's just a fun car!
The most recent addition to the car is the flames. Still working on the interior.
Does anyone know where I can find door weather stripping and some Superior trim logo?
When people tell us that it is creepy to have a hearse, our response, Don't let your first ride in a hearse be your last. -penned by Amy, Grim Rides Hearse Club.
Susan has also designed a couple signs to put in the windows, with some material taken from Red Foxx's Party Record put out in the late 1950's.
One Cent Sale! If you die next week, you can take a friend along for a penny. For $25 above top cost you can ride up front with the driver. This ad is brought to you by E.M. Balm & Co., the folks who dig you the most.