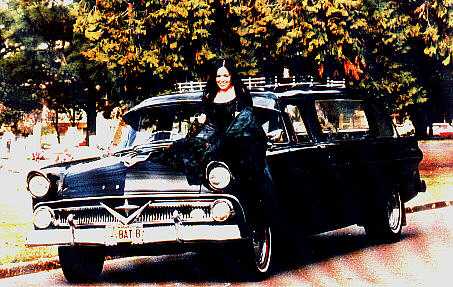 Ms. Michelle Buckingham, Canberra, Australia
Aust. 1959 Ford Mainline end-loader, 292 ci Y-block V8. Black with all original interior, rollers and rails, etc. Australian hearses were generally made from "ute" (Ranchero) bases and stretched to suit the requirements of the funeral director. Mine is stock standard and unrestored (needs it). Some of my hobbies are funeral related objects, embalming, antiques and bric-a-brac, motorcycles, making leather gear, art, and designing dungeonwear.
I once was out driving my hearse late at night and broke down. I had to let it roll to a stop in someone's driveway to get it off the main road. I had no tools or torch, so I slept in it till morning. I meant to wake at daybreak and attend to the problem but I overslept. I awoke to see all these horrified faces peering in at me and asking what the hell was I doing in their driveway! Needless to say, not one of them offered to help me. It ended up being a blown fuse anyway. I fixed it myself and waved a cheery good-bye to their blank gormless faces.