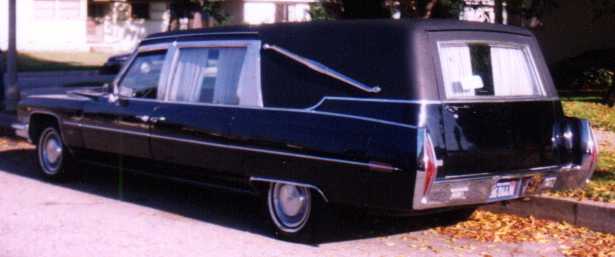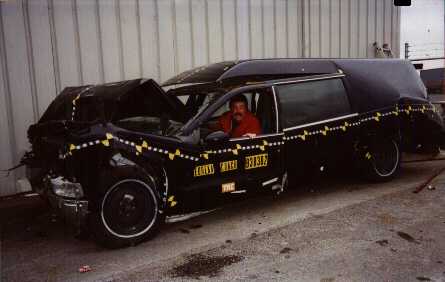 Paul J. Nix, aka "Rabbi Foreskinabitch", Arleta, CA
72 Superior 3-way elect. (Pictured), 79 Cad M+M 3-way, 71 Cad Superior Flower car, 65 Buick Flex. Combo, 68+70 Cad Ambs., 75 Cad Sup. amb. Many more 77-84 Hearses.
Among my personal collection are:....
-Black '63 Cad. Eureka Landau, 3-way w/ original burgundy mohair interior
-Black '62 Cad. Superior Landau, 3-way Elect.
-Black '66 Cad. S&S Landau, 3-way Elect.
-Black '62 Buick Flexible 'experimental' Formal Limousine (one of only two built)
The other picture was taken, just after my release, from Bell View State Hospital. ( ...but I'm feeling much better now! )
I'm a hearse broker, (Pro Cars) We can get any member of the club a good deal on a first time hearse buy, or an upgrade! We take trade ins.
HOBBIES/INTERESTS: Collecting real and model pro cars, i.e. hearses, ambs, + limos. Also classic conv. cars. Have a 64 Buick Wild Cat conv., 62 Pontiac Bonneville + 61Cadillac convs. All car related toys, and my computer.
FAVORITE COACH: All Eureka coaches to 1964. Really like 59-60 Eurekas.
My motto is.... "Try something new each day, After all, We are given life to find out"
....That's you, Harold!