A Final Ride in Eternal Style...

René Ochoa taken to grave in his own hearse wearing a sharkskin suit and a red bowling shirt.
By David Allen
Inland Valley Daily Bulletin
Not many people provide the hearse for their own funeral. René Ochoa did, though. On Thursday, April 23, 1999, Ochoa's beloved 1965 Pontiac Superior hearse, which he'd driven for pleasure for four years, gave him one last ride, carrying the horror buff to Forest Lawn cemetery in Covina for burial.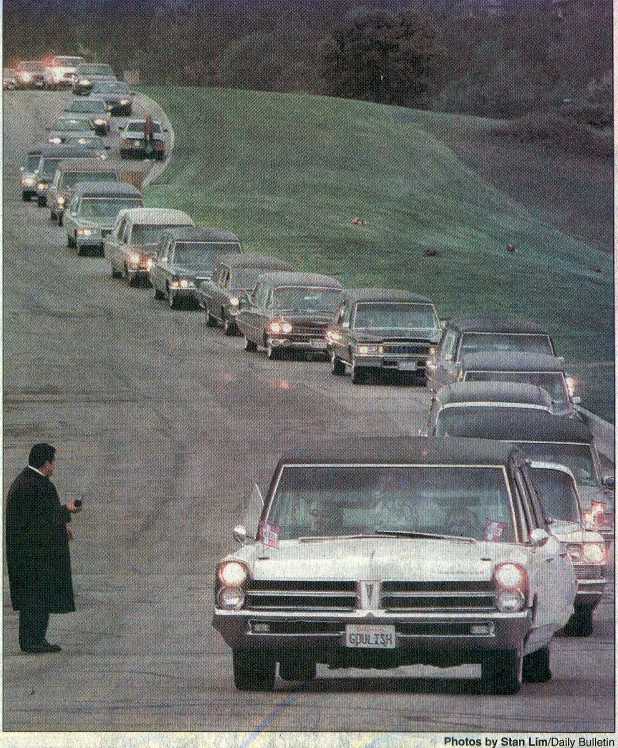 Ochoa, an Upland resident, died of kidney failure April 16, 1999, at age 30.
Following a service at the Draper Mortuary chapel in Ontario, Ochoa's silver casket was loaded into the back of his hearse. His friend Kri Kendall got behind the wheel accompanied by Ochoa's companion, Chris Oswalt.
Traffic on Mountain Avenue halted politely as Ochoa's faded white hearse, with the vanity plate "GOULISH," pulled out of the mortuary's driveway.
Then came a second hearse. And a third. And a fourth.
Some bore vanity plates such as " LAS RYD" and "MBALMED." A Bonneville's name plate was altered to read "Bone Ville." The interior of one polished black hearse was decorated with fake cobwebs, fake skulls and a casket – empty presumably.
In all, 15 hearses, all driven by Ochoa's friends, fellow members of the Phantom Coaches Hearse Club, followed Ochoa's hearse in a procession to the cemetery. Other mourners followed in more prosaic vehicles.
"The club meant a great deal to him," Kendall said the day before the funeral. "I won't say we were his life," she quipped, "but we were his lifestyle."
Nearly 100 people packed into the chapel Thursday, April 22, 1999, to pay their respect to Ochoa. They remembered him as a gentle, generous man with a dark sense of humor.
"He was a grown man with the heart and giggle of a little boy," said April Dominguez of Los Angeles, a friend since high school.
Ochoa's pride and joy was his hearse, which he bought off a used-car lot and used as his everyday transportation. His hearse, which he nicknamed "Patty Hearse," was frequently parked outside a Blockbuster Video outlet in Rancho Cucamonga, where he worked as assistant manager (The hearse is not for sale Oswalt said.)
Last fall, Ochoa said his love of the macabre began in boyhood as a way to overcome his fears. "As a child, I used to have nightmares about everything," he said. "Someone told me you have to go in headfirst and face your fears."
Despite choosing to surround themselves with death, Phantom Coaches members were as emotional as anyone else at the service. Club president Ronnie Grubbs Jr. was in tears.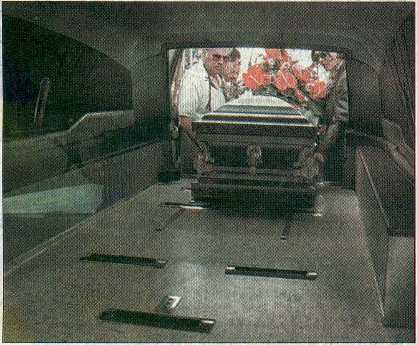 Still, Mark Villarino of Norwalk told fellow mourners that the fun-loving Ochoa would not have wanted them to be sad.
In a way, Ochoa had planned his own funeral, the way other people might plan their wedding, Kendall said. Ochoa once said he'd like to be buried in a sharkskin suit and his red bowling shirt, have his hearse carry him to the cemetery and have a parade of hearses follow him, she said.
All his wishes were carried out. Ironically, though, once Ochoa became sick six months ago, he refused to discuss anything having to do with his own demise because "he didn't want to give up," Kendall said.
Ochoa's family consented to the unusual arrangements. His brother, Anthony, said he thought the service was respectful. But he didn't share his brother's childlike love for Halloween and the macabre.
"I don't get why people are so enthused about that stuff," he admitted. "Why the rush? We're all going to get there sooner or later."
There was one final twist.
As the casket lay at Forest Lawn before the burial, someone took a magnet from Ochoa's dashboard and affixed it to his casket.
The magnet bears the motto of the Phantom Coaches Hearse Club: "Put the 'Fun' Back In Funeral."
Ochoa and his friends did their best.
PHOTOGRAPHS; TOP RIGHT: JUST THE WAY HE WANTED IT: A hearse that belonged to René Ochoa of Upland carries his body as it leads members of the Phantom Coaches Hearse Club to the grave site at Forest Lawn in Covina. LOWER RIGHT: A magnet that had been in Ochoa's hearse was placed on his casket at the end of funeral services. LOWER LEFT: Pallbearers load Ochoa's casket into his hearse.
---
The following is René's Eulogy by April Dominguez:
Hello, for those of you who don't know me, I am April. René and I have been the best of friends for 14 years. I'll do my best to keep my composure but please bear with me. Though today maybe a natural part of life, nothing ever makes it easier. So, it's with the humblest of hearts that I stand before you today. I don't think there is one person here today who hasn't been touched by the laughter of the kind heart of René.
René was born April 5th, 1969. His mother, Mary, gave birth to Albert Anthony René Ochoa in Los Angeles at the Woman's Hospital. Her first memory of René was of him as a giggling baby boy.
I met René in high school. He was a transfer student and I had a car. One of my friends came up to me to ask me to take this guy, René, home, and then ran off. I looked at René with annoyance and said "Do you know that our crowd is different?" He gave me that smirk that we have all learned to love and said "Birds of a feather, flock together."
When I left to go into the Army, René moved out of his mother's house. From that point on, René never looked back. René managed to take college courses, live on his own, and buy his first car, a red Colt. His first job was bartending and managing at 3626 and Woody's. He moved on to work for Ticketmaster. When he moved out of L.A., he worked for Blockbuster Video as a manager. These are the highlights of his working career but one of those things that I admired most about René was that he never sat at home. René managed to take advantage of every opportunity available to him and fought for everything he achieved, which was very apparent in his valiant efforts in the last six months.
In 1994, René finally purchased Patty for $3,500.00. For those of you who don't know Patty or are not familiar with the story, she is a 1965 white -- not cream, not tan, but white -- Pontiac Bonneville hearse. When he first got Patty, he referred to her as Patty Hearst. He did this intentionally with his dark and twisted humor. He took great care and effort to maintain and keep the original curtains as you all well know. He bought Patty at a car lot. It had a big sign that said "Don't Drink and Drive!!!" Which was hilarious because we would always make him drive while we all sat in the back and drank. Of course, what we didn't know was that René got the last laugh because he would secretly wax the table and then he would slam on the brakes and we would all go flying into the partition.
He also was a founding member of the Phantom Coaches Hearse Club. Phantom Coaches quickly became his family. They fought with each other, ate together, drank together, cried together, and... well, family.
In 1996, René met Christopher through a mutual friend. René and Chris were a perfect matching mesh. They were like kids in a candy shop. Their dark and twisted humor had finally found a soul-mate. They started collecting and sharing in their individual styles. On June 23, 1997, they exchanged rings. Last year, they finally went on the honeymoon in Kauai. During Christmas, 1997, they became the proud parents of a daughter, who had the worst attitude, and named her Taffy.
A good way to describe René would be a grown man with the heart and giggle of a little boy. Between him and Christopher, we have all watched and learned that it's never too late to have a happy childhood.
Through thick and thin, time and distance, for fourteen years, we have always managed to bridge any gaps between us. René always had an answer to any problem I might have had, and although it might not have been what I wanted to hear, the alternative option would make me laugh and for this he will never be forgotten by me and I believe by all who knew him.
NOTE:
I know that all of us in the Phantom Coaches were touched by knowing René. It meant a lot to him to finally be elected as an officer. Even though at that time he did not know what was to come, in hindsight, I believe that fulfilling one more dream meant a great deal to him. I personally will miss his snide remarks, caring shoulder, giving heart and mostly, the ways he made me laugh at everything, bad or good. R.I.P. René.
Love, Kri