Vintage hearses cruise circle
Hearse club honors late member with a trip through Orange

By MADIA JAVID-YAZDI
The Orange County Register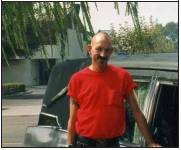 Late member Brian DeWitt.

---
Before pedestrians pulled out camera phones to capture Phantom Coaches Hearse Club members driving around Orange Circle, Clarence Williams pulled out a photo of his own.
Williams wanted to remember Brian DeWitt, an Orange resident who started the yearly tradition of the Orange Circle Cruise.
"Some people go around the circle because it's just fun to do," said Williams, the club's treasurer, or what members call the grave robber. "I do it as a tribute to Brian. I loved him so much, he was like a brother to me."
DeWitt died of lung cancer in 2000. He shared an appreciation for vintage hearses with fellow club members – and he loved driving each of his coaches around the circle.
"It was Brian's habit. It was a spontaneous thing and we were just a bunch of knuckleheads," Williams of Santa Ana said smiling.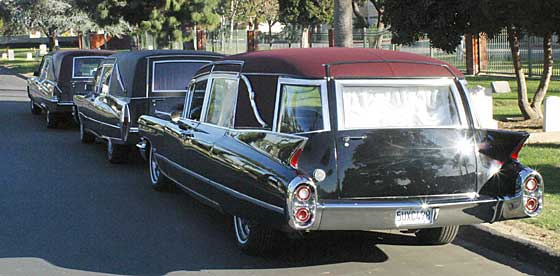 A few of the classic hearses lined up at Fairhaven Memorial Park in Orange Saturday.
Photo: Laura Gaghan / The Register
---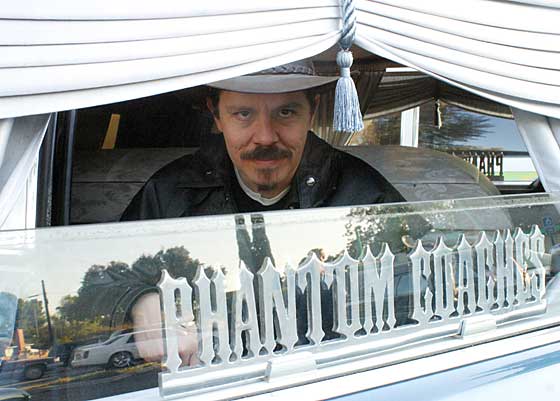 Mark Villarino, long time Phantom Coaches Hearse Club member, has a prop casket loaded in his 1968 Cadillac Miller Meteor hearse.
Photo: Laura Gaghan / The Register
---
Jeff Perrin is the outgoing club president – or what members call "chairman of the morgue." The Long Beach resident grew up in Orange County and recalls how Fairhaven Memorial Park and Mortuary became one of the social club's meeting spots because of DeWitt.
"He loved taking pictures of his cars at Fairhaven. It was one of his favorite places for a meeting and it was close to his house," Perrin said.
Members, who also share a passion for flower cars and limousines, gathered Saturday at Fairhaven.
Thirteen hearses – with a classic ambulance leading the way – then looped until the last coach made it onto the circle. The lead car circled 14 times.
The vehicles included: 1968 Cadillac Miller Meteor; a 1984 Cadillac Superior, which recently appeared in an episode of "Sleeper Cell" on Showtime; and a 1977 Miller Meteor Hightop ambulance with lime green trim.
Club webmaster Mark Villarino said members often help each other. Villarino said he once fixed an 8-track stereo for DeWitt. DeWitt, who drew cartoons for the club newsletter, "Epitaph," returned the favor by painting a picture of Villarino's 1959 Cadillac hearse.
But it was Perrin's Cadillac, a black 1960 model, that drove DeWitt to the mortuary.
As Perrin drove around the circle Saturday, he remembered that six friends piled into the hearse the day he drove DeWitt's body to the mortuary. DeWitt also took one last spin around the circle before his final cruise to Fairhaven, where he is buried.
"Of course we think of him as we go around the circle," Perrin said, "and of course we miss him too."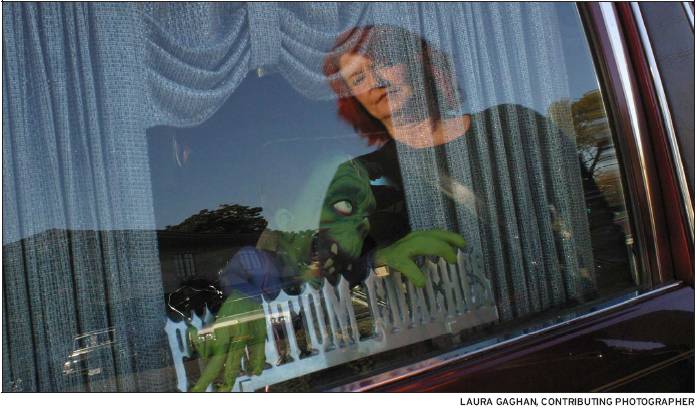 LAST RIDE: Phantom Coaches Hearse Club member Cheri Wilson of Newport Beach stands with her 1984 Cadillac Superior model hearse. Club members drove around the Orange Plaza in honor of Brian DeWitt.
---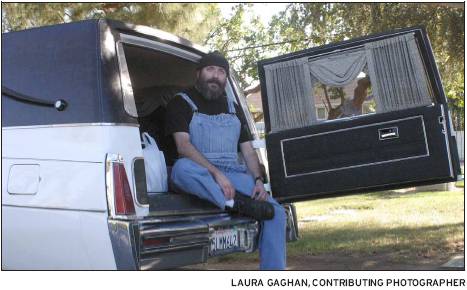 For an absent friend TAILGATING: Clarence Williams of Santa Ana relaxes on the back of his hearse at Fairhaven Memorial Park in Orange Saturday.
---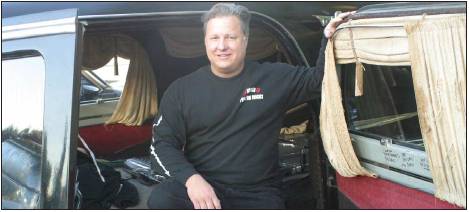 IN MEMORY: Jeff Perrin of Long Beach used his 1960 Cadillac Eureka hearse to transport former club member Brian Dewitt after his passing.
---