Southwest County members of hearse club to show their coaches

By: BRIAN ECKHOUSE - Staff Writer
The North County Times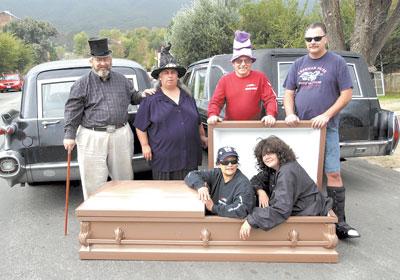 Members of the Phantom Coaches Hearse Club have their hearses and coffins ready for display this weekend. The members seen Thursday in Temecula are, in the coffin from left, Becca Woodward and Ruth Vick; and in the back from left, Otto and Nancy Baron, Hewy Vick and Bryan Woodward.
Photo: STEVE THORNTON Staff Photographer
---
TEMECULA ---- To members of the Southwest County-based Phantom Coaches Hearse Club, hearses are more than just vehicles designed to haul the dead.
To them, they're just as valuable as vintage Mustangs. Despite the obvious connection between the hearse and death, Ruth Vick and several club members contend their fascination with the coaches is hardly morbid.
"The old quote is, 'People don't die in hearses, they die in ambulances,'" said Vick, who lives in Hemet.
Said hearse owner Becca Woodward of Temecula, "We're not grim reapers ---- we're phantoms."
The club members agree, however, that Halloween is the perfect occasion for showing off their prized possessions, as they will be doing at several events scheduled this weekend.
Traditionally, a hearse is a station-wagon-like vehicle designed to hold a coffin and a half-dozen pallbearers.
In design, they can range from Space Age futuristic to stylishly grotesque ---- and are often both.
"Nobody designed a hearse to look ugly," said Otto Baron of Temecula, who believes he owns one of the world's oldest existing hearses ---- an 1885 horse-drawn carriage that was equipped with a motor in 1912. He bought the hearse in 1999 for $28,000.
Baron, who owns Temecula-based Krieger's General Mercantile store with wife Nancy, also has a 1959 Cadillac ambulance-hearse, which has double-layered front lights, a V-shaped hood with a fierce attitude and taillights shaped like missiles.
"I love the front end," Baron said. "There's sort of an angry look ---- that Dr. Jekyll/Mr. Hyde thing with it being both an ambulance and a hearse."
Baron, a member of the Phantom Coaches Hearse Club, will show one of his hearses at two Southern California parades this weekend, including Sunday's Halloween Hearse Procession and the Antique and Classic Show at the Orange County Market Place in Costa Mesa.
Woodward intends to parade her lone hearse, a 1973 Cadillac Crown Superior, in three processions this weekend, including Saturday's procession at Peterson's Auto Museum in Los Angeles. Peterson's anticipates more than 100 hearses for the parade.
Saturday night, Woodward and husband Brian will head for Riverside for that city's procession, before concluding their weekend of processions Sunday in Costa Mesa.
It should come as no surprise that the Woodwards ---- particularly Becca ---- strive to participate in every local and regional procession. Brian Woodward jokes that his wife loves the hearse more than him. That seems doubtful ---- they have been married for 26 years. Then again, Becca Woodward said she's "always" wanted a hearse.
Not everyone shares Becca Woodward's love of hearses, though they have recently regained popularity as vehicles for use other than in funerals.
The "Ghostbusters" movies of the mid-1980s popularized the 1959 Cadillac model that Baron owns. In recent years, hearses again caught the public's attention, likely due to the success of HBO's "Six Feet Under," Vick said.
The dramatic series chronicled the lives of the Fishers, who owned and managed a Los Angeles-based funeral home. The youngest Fisher, Claire, drove the hearse to and from school.
Ruth and Hewy Vick, who bought their first hearse in the late 1990s, now own 30 to 40 of them. The Vicks aren't sure of the exact number ---- their collection is always in flux.
"We can't count ---- they come and go," Ruth Vick said.
As a child, Ruth Vick collected model cars. As she reached into adulthood, the cars got bigger. In addition to their evolving hearse collection, the Vicks also own fire trucks, police cars, ambulances and muscle cars.
The Vicks have two horse-drawn hearses, and, like their other vehicles, they are stored in a 32,000-square-foot metal garage at their 9-acre Hemet home.
Vick said her love of hearses is linked more to their designs than who and what are in the coaches.
"They're hand-built cars," she added. "The front end of the car is a Cadillac, Oldsmobile, Buick (combined). The whole back is custom-built."
Baron contrasted modern family cars with hearses built before 1984 ----- recent hearses haven't been hand-built.
"They're appliance cars ---- just functional," he said. "No one will be rebuilding them. I don't think there will be Nissan Altima clubs in the future."
---
Contact staff writer Brian Eckhouse at (951) 676-4315, Ext. 2626, or beckhouse@californian.com.